Lighting the Way
Bluetooth® networked lighting control systems are deployed in offices, retail, healthcare, factories, and other commercial facilities to deliver a combination of energy savings, an enhanced occupant experience, and more efficient building operations.
ON-DEMAND WEBINAR
How to Unlock the Full Potential of Networked Lighting Control Systems
Find out how to deploy networked lighting control systems that can unlock the full value of a building.
What is Networked Lighting Control?
Networked lighting control systems feature an intelligent network of individually addressable and sensor-rich luminaires and control devices that allows each component of the system to send and receive data. Three key benefits are driving the demand for advanced networked lighting controls.
Significant Energy Savings
In addition to providing more refined scheduling and demand response, networked lighting controls feature intelligent sensors to monitor occupancy and daylight levels and adjust light usage in real-time, allowing for more efficient energy consumption.
Better Occupant Experience
Quality of light is essential to occupant well-being and productivity. Traditionally, lighting systems have fallen short in achieving energy efficiency without compromising a building's occupant experience. Networked lighting controls enable task tuning and personal control for light-level management, striking the ideal balance between energy savings and occupant comfort.
Improved Building Operations
Luminaires are now capable of providing performance data that can help better tune the system as well as critical health data that enables predictive maintenance. Occupancy, temperature, humidity, and air-quality sensors integrated into the networked lighting control system are also helping enable more efficient operation of other building systems, including HVAC and security.
No Wires Required
The shift from wired to wireless solutions for networked lighting control is being driven by three main advantages of wireless systems.
Lower Cost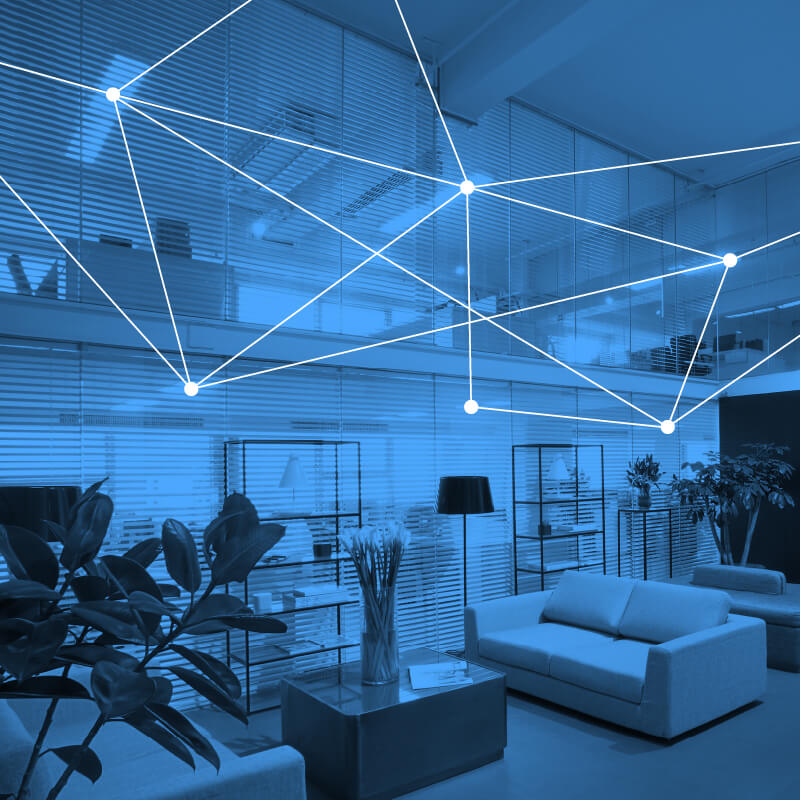 Without the need to pull control wires, wireless networked lighting controls offer significantly lower deployment costs. Decreased labor and material costs, minimum disruption to business operations during installation, and reduced ongoing maintenance costs combine to bring substantial savings to building owners and managers, particularly in retrofits.
Greater Design Flexibility
Wireless systems allow for placement of equipment where distance restrictions or accessibility would make a wired solution impractical, if not impossible. In addition, wires are fixed, but spaces and layouts change, and lighting control systems must adapt with them. Wireless systems are more easily reconfigurable and provide superior flexibility compared with wired offerings.
Future Extensibility
The ideal networked lighting control system is often one that can start small and then scale, in both functionality and size. Once deployed, wireless systems are far more extensible than wired counterparts and can more easily add advanced controls and expand to meet changing business needs and occupant requirements.
A Cost-Effective Decentralized Architecture
The cost of deploying, or even piloting, legacy networked lighting control systems has limited their adoption. Bluetooth® mesh removes the need for centralized controllers, lowering the cost of componentry and reducing upfront labor and installation expenses, allowing designers and specifiers to quickly deliver value to building owners and end users.
Direct Mobile Device Provisioning
With Bluetooth® technology native in 100% of smartphones and tablets, system integrators and installers can use simple, user-friendly, commissioning apps that communicate directly with nodes on the network, eliminating the need for specialized engineering expertise as well as internet access and cloud platforms to support installation and operation of the system.
Best-In-Class Scale, Performance & Reliability
Bluetooth® mesh networking was specifically designed with large-scale networked lighting control implementations in mind. Three key features help separate the scale, performance, and reliability of Bluetooth mesh from other wireless lighting control technologies and provide the resiliency needed by installers, building managers, and end users in commercial installations.  
A decentralized control architecture distributes intelligence to all end devices, eliminating single points of failure to prevent system-level outages

 

A unique publish/subscribe message addressing approach significantly lowers messaging traffic on the network, leading to greater network scale and performance

 

A managed flood message relay approach enables lighting networks to scale to thousands of nodes while maintaining high performance and reliability 

 
Additional Benefits Beyond Illumination
The same Bluetooth® radio embedded in lighting control devices can also be used to implement advanced building services, such as indoor navigation and asset tracking, enabling networked lighting control systems to shift from a single-function solution to a platform for data-driven smart building services that bring benefits far beyond illumination.
Bluetooth® technology and DALI® already have a long history of working together. But as…