Is Bluetooth® Technology the New Standard for Assistive Listening Systems?
Presenter: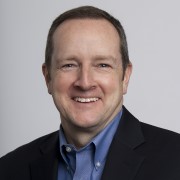 Chuck Sabin
Senior Director, Market Development
Bluetooth SIG
Description:
Hearing loops and telecoil have long been the standard for assistive listening in public locations and have provided great benefits to people with hearing loss. Bluetooth® technology has now introduced Auracast™ broadcast audio, a new capability that enables an audio transmitter to broadcast to an unlimited number of nearby Bluetooth audio receivers. This new standard will enable public locations to stream high-quality, stereo audio directly to visitors with hearing instruments. Representatives from the hearing industry, including major hearing device manufacturers, system providers, operating system vendors, and consumer advocacy groups are working together with the Bluetooth Special Interest Group (SIG) to ensure this new Bluetooth® standard for broadcast audio meets the growing need for consistent and always-present audio accessibility. What does this mean for the future of assistive listening technology and audio accessibility?
In this webinar, Chuck Sabin, Senior Director of Market Development at the Bluetooth SIG will discuss how Auracast™ broadcast audio will enable the next generation of assistive listening systems, help drive broader adoption of hearing assistance at public locations and help drive ne audio experiences for everyone.
Attendees will gain a clear understanding of:
The challenges inhibiting wide-scale deployment of current assistive listening systems
The initial use cases driving Auracast™ broadcast audio for assistive listening
The benefits Bluetooth LE Audio and Auracast™ broadcast audio will bring to Bluetooth® hearing aid users
Realistic timelines for the adoption of Auracast™ broadcast audio in public venues
How industry collaboration will help ensure a consistent user experience across locations and how advocacy today paves the way for new technology tomorrow
Learn how Auracast™ broadcast audio will expand the availability of assistive listening systems and hearing devices, propel new opportunities for hearing accessibility, and expand the promise of better health through better hearing for everyone.  
Related Resources:
Video: Next Generation Audio Accessibility with LE Audio and Auracast™ Broadcast Audio