Mobility as a service (MaaS) is shifting from a hot concept to becoming an emerging reality, which calls for smarter and more convenient mobility solutions. With 100 percent penetration of Bluetooth® technology in smartphones, phone as a key (PaaK) is becoming a new trend in Bluetooth location services, introducing keyless entry, start, and unlocking to vehicle and e-motorcycle owners.
As a global leader in cloud computing and AI technology, Alibaba Cloud is committed to providing secure and reliable computing and data processing capabilities as digital public services, making computing and AI generally available. With a pioneering Bluetooth enabled true PEPS (passive entry and passive start) that locks the e-motorcycle immediately when you leave, teams from the Alibaba Cloud IoT and Tmall Two-Wheeled Vehicle departments launched the intelligent Flash Rider mobility solution for e-motorcycles in November 2020.
I recently had the opportunity to speak with Mr. Ge Wei, senior technologist of Alibaba Cloud's IoT Intelligent Device Platform R&D division, to learn how they developed PEPS solutions for e-motorcycles using Bluetooth technology. Wei explained how Bluetooth technology supports a diverse range of technical requirements, such as wide compatibility, accurate distance measurement, and secure connection.
Q&A with Ge Wei from Alibaba Cloud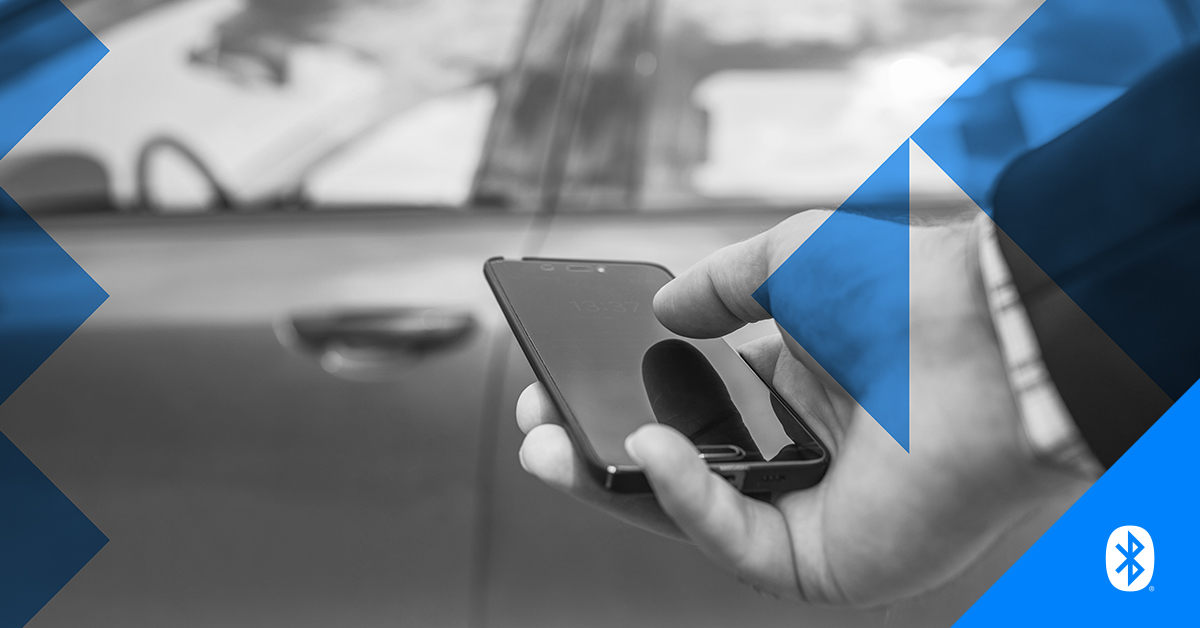 When did you launch your Intelligent Mobility Solution for E-Motorcycle, and what market needs does it address?
In November 2020, Alibaba Cloud IoT and Tmall Two-wheeled Vehicle Business Unit (BU) launched Flash Rider, an Intelligent Mobility Solution for E-Motorcycle that allows e-motorcycle users to start their vehicles without needing to carry a physical key. With this solution, users can start/lock their e-motorcycles via a smartphone app after scanning the code and binding the vehicle to the smartphone. With true PEPS enabled, the e-motorcycle automatically unlocks or locks when the user is at certain distances from the vehicle, all without needing to operate the phone. This solution brings convenience to e-motorcycle users, especially delivery riders.
What are the technological requirements and challenges in true PEPS, and how does Bluetooth technology meet these requirements?
The true PEPS launched by Alibaba Cloud IoT BU determines the distance between a person and a e-motorcycle via Bluetooth® connectivity. To do this, several technological challenges had to be addressed.
How to allow the mobile phone to connect and communicate with an e-motorcycle without human intervention
How to ensure security throughout the entire setup and connection process
How to ensure the accuracy in determining distances
Bluetooth technology has built-in advantages for addressing these challenges. It is widely supported on mobile phones and ensures a high degree of security in the connection protocol. Bluetooth technology can also initially judge distance through acquiring signal strength from remote devices and then improve the accuracy of calculated distance through the Alibaba Cloud IoT algorithm, providing users with a convenient PEPS experience.
With work underway in the Bluetooth SIG working groups to add a new standard for high-accuracy distance measurement, accuracy using Bluetooth technology will potentially increase to around 0.5m. This will allow more accurate positioning when used as an intelligent mobility solution for e-motorcycles and further optimize the safety and precision in PEPS smart e-motorcycle scenarios.
I believe we will see more Bluetooth® enabled digital key solutions emerge.
How will digital keys evolve in the smart e-motorcycle sector?
As a worldwide standard, Bluetooth® technology is widely supported on all types of products and is especially popular for smartphones. The Bluetooth Special Interest Group (SIG) has done a very good job in product compatibility, so the underlying technology that uses Bluetooth technology for digital keys has its inherent advantages.
Alibaba Cloud IoT BU chose Bluetooth technology to enable the true PEPS function for its unparalleled convenience as a standard mobile phone feature. I believe we will see more Bluetooth enabled digital key solutions emerge in the e-motorcycle sector as the technology evolves and expands.
Could you give us some examples of which manufacturers have adopted Alibaba Cloud Intelligent Mobility Solution for e-motorcycles?
At present, Alibaba's mobility solution has been adopted by many well-known e-motorcycle manufacturers such as Aima, Luyuan, and Sundiro. According to their feedback, this solution offers a market-leading user experience for consumers who have acknowledged the quality of and consider the PEPS as a very convenient function.
Does Alibaba Cloud have any further development plans for Intelligent Mobility Solutions for E-Motorcycle? 
Alibaba Cloud IoT BU will continue to explore intelligent mobility and bring more intelligent, user-friendly improvements to the e-motorcycle industry and consumers. We intend to launch more intelligent functions such as distributed wireless buses and long-distance transmission in addition to the true PEPS function.
Smart e-motorcycle solutions that use Bluetooth® technology as the fundamental communication protocol can not only enable the interactions between devices, such as an e-motorcycle's status and smart helmets or between body sensors, but it also optimizes synergies between human and e-motorcycle as well as e-motorcycle and the road. As the e-motorcycle industry shifts to intelligence, Bluetooth technology will leverage its device compatibility, technological leadership, and mature and comprehensive industrial ecosystem to become as standard in smart e-motorcycles as it is in smartphones.
FEATURED DOWNLOAD
Understanding Reliability in Bluetooth Technology
Download this detailed discussion on reliability in wireless data communication and the techniques Bluetooth® technology uses to increase reliability.
Bluetooth® technology is transforming the way we use smartphones, turning them into convenient and…